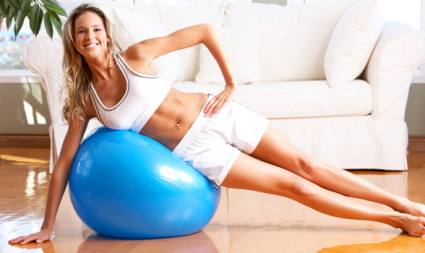 Do you find losing weight like an unconquerable quest? Are you one of those women who have explored every nook and corner to lose those extra kilos of your body, but in vain! Hey, don't get dismayed.
Follow these incredibly effective low-cost home-based workouts for women:
1. Cardio workout
It is possible to achieve massive weight loss results with the help of effective cardio workout without having supersonic equipments. The main fat burning cardio workout is Squats.
Squats are comparatively a less energetic substitute but is highly excruciating. It is excellent to shape up your thigh muscles. It is a must for all women. Do 3 sets of 20 each!
2. Cycling
Cycling is one of the best forms of exercise for losing weight. Cycling works best for building immunity and burning calories no matter what your age and size is. Unlike running, cycling is non-harmful to joints and you are unlikely to cause any injury. Do cycling at modest speed for an hour and you will lose 500 calories!
3. Body weight squat
Ask any female strength coach and she will help you recognize benefits bodyweight squat offers. Body weight squat targets your gluteus muscle, and, therefore, they help you burn higher calories than leg extensions. For intense results, do 3 sets of 15 reps.
4. Dance
What better way to burn calories when you are having fun dancing and don't even realize that you are burning heaps of calories! Turn on some music, forget rhythm and just move your body the way you like. It is highly an invigorating method of shedding extra kilos.
5. Aerobics
Inarguably, belly fattening is big turn off and quite depressing for most women. The good news is that a recent health study had shown that aerobics burns belly fat in the best manner. So, burn your belly fat and wear those jeans you were trying to fit.
6. Running
Running can be overwhelming for some of us, but the results of this exercise are astounding. It is an amazing way to burn calories. Run at least 3-4 times per week.
7. Walking
This is no walk in the park. We are talking about brisk walking here. A brisk walk can burn up to 100 calories per mile. To make the walk more interesting, choose a clean route such as parks, riverside paths or inner lanes of residential areas.
8. Light Jogging
Jogging falls between walking and running. It is indeed a very good form of exercise especially for women. You can jog even when you are pregnant. Just remember to stay hydrated and drink plenty of water before jogging.
9. Light House Works
Don't take household chores for granted when it comes to burning calories. If you perform household works like vacuuming the floor then you are bound to lose lot of calories and burn fat.
Your home-based workouts, if done consistently, prove to burn calories and raise metabolism. Good luck!