The efficiency of a product largely depends upon its composition. The quantities of all the ingredients in a product should be such that it is effective in bringing out its desired result. In the case of dietary supplements, the customer's demand side-effect free or a supplement with minimal side-effects, because nobody is up for improving one aspect of their health at the cost of another. Thus, a natural and herbal composition is what everybody needs.
HGH Energizer Supplement is made by a company which is well renowned for manufacturing best quality herbal products since last 15 years. All supplements pass through stringent tests and guidelines. The quality control engineers possess the supreme power to reject the raw material or even to reject the whole production process if something is found to be short of the established standards. But the ingredients of HGH Energizer make it a flawless product, which strictly adheres to the herbal standards.
HGH Energizer means a side effect free way to get your energy level enhanced. HGH Energizer supplement is not a steroid but a protein and benfitial for both men and women. This supplement is especially designed to provide you with the nutrients you are deficient in.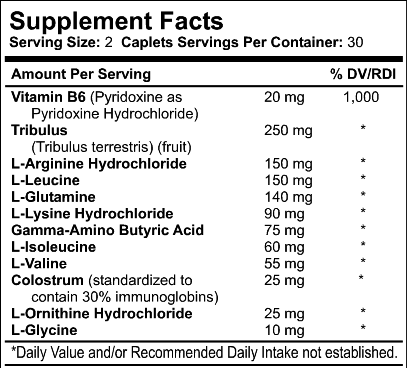 Following are the Main Ingredients of HGH Energizer:
Vitamin B6 (Pyridoxine as Pyridoxine Hydrochloride) – 20mg: It is an antioxidant nutrient, helps the body inhibit the formation of free radicals. It assists in the balancing of sodium and potassium as well as promoting red blood cell production. Pyridoxine helps in balancing hormonal changes in women and aids the immune system.
Tribulus Terrestris– 250mg: It's a flowering plant known to Increase your testosterone levels.
L-Arginine: – 150mg: An amino acid, which triggers Nitric Oxide production in the body. Nitric oxide expands the blood vessels which enables HGH and other important nutrients to reach your muscles.
L- Leucine: –150mg: An amino acid, which helps to maintain the body's sugar level. Thus, improves your overall energy and endurance levels.
L- Glutamine: –140mg: It Increases the human growth hormones in the body and preserves the muscle mass.
L-Lysine: –90mg: An Amino acid used to enhance the human growth hormone secretion.
L-Isoleucine: – 60mg: It is an essential amino acid, which means that humans cannot synthesize it, so it must be ingested. As L-Isoleucine is an essential amino acid, it is required by everyone for health reasons. It cannot be made by the body and is known for its ability to help endurance and assist in the repair and rebuilding of muscle.
L-Valine: – 55mg: It is a branched chain amino acid (BCAA). It can be taken with other BCAAs to assist in the rebuilding of muscle tissue after heavy training and can help slow muscle tissue breakdown during long distance and endurance sports. BCAA supplementation may assist in recovery from muscle wastage.
Colostrums (standardized to contain 30% immunoglobulins): Colostrums is a form of milk that contains antibodies to protect the newborn against disease, as well as being lower in fat and higher in protein than ordinary milk.
L-Ornithine Hydrochloride: – 25mg: Ornithine is an amino acid. It is made in the body. It can also be made in a laboratory. People use it as a medicine. Ornithine is used for improving athletic performance, reducing glutamine poisoning in the treatment of a brain condition due to liver disease (hepatic encephalopathy), and for wound healing.
L-Glycine: – 10mg: Glycine is one of the amino acids necessary for the biosynthesis of creatine. Creatine provides muscles with a direct energy source and helps to build muscle tissue and strength. Glycine is also an important anti-aging amino acid.
Other Ingredients of HGH Energizer Supplement Include:
Calcium Carbonate/Phosphate, Fructose, Stearic Acid, Silicon Dioxide, Citric Acid, Acacia gum, Starch, Talc, and more. These ingredients collectively make HGH energizer supplement work. Go Buy It!